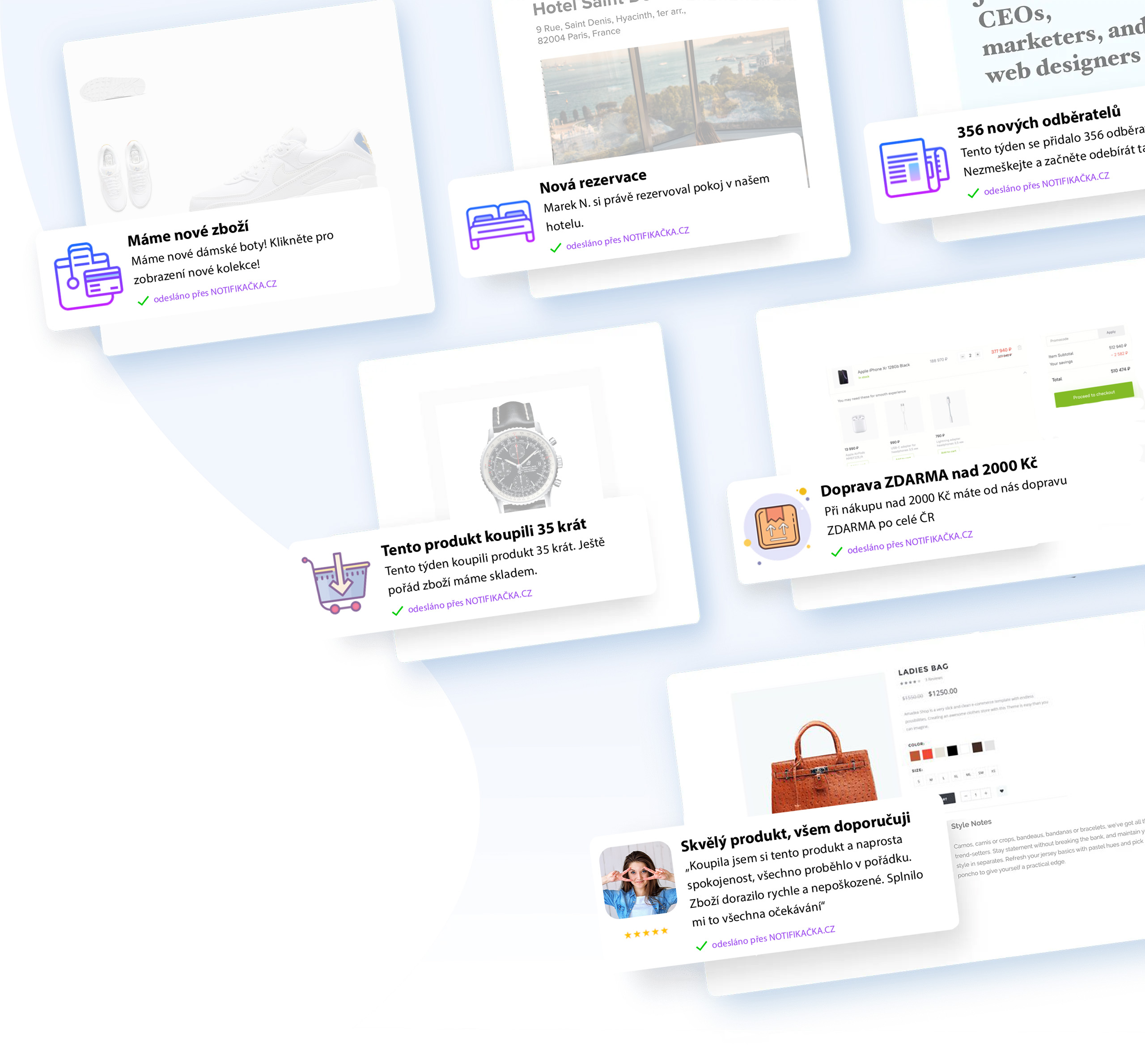 Skyrocket

Conversions
& Increase

Growth

.

86999 notifications were created & customized by our users.
Increase your website's growth by using our notification widgets.
More engagement, growth & leads.
Install pixel
Easily integrate it on any website with just one line of code.
Create your notification
Create and customize your notification however you like it.
Grow & Profit
Generate more leads, conversions and growth. It's that easy.
Easy setup & integration on any website.
Any website can run our notifications.
Any website can run our notifications.
Společnosti, které již využívají našich notifikací 💙
Zde je pár recenzí od našich spokojených zákazníků.
Brigádo.cz

o 2x více aktivních uživatelů
Notifikačka.cz je pro nás skvělým nástrojem k udržení aktivních uživatelů. Díky notifikačce se nám zvedl počet odevzdaných úkolů na více než dvojnásobek. Tímto nástrojem dokážeme uživatelům ukázat potřebné informace, které se nám nedařilo doposud sdělit tak, jak jsme chtěli. Například kolik se plní úkolů, kolik se vyplácí a další informace.
Maxim Torský - CEO brigado.cz
Marketum.cz
o 30% více dokončených registrací
Musím říct, že jsem byl příjemě překvapený, jak je tento nástroj jednoduchý a účinný. Chtěli jsme něco podobného programovat, ale nabízené ceny byly příliš drahé a zdaleka neobsahovaly tolik možností. Notifikačku jsme koupili na rok a od té doby se nám zvýšily registrace uživatelů i samotné prodeje. Dokážeme vše vysvětlit efektivně a jednoduše.
Martin Wild - Jednatel společnosti
Zadarmoo.cz

zvýšení prodejů o 23%
Velice se nám líbí možnost zobrazení notifikací při pokusu o opuštění našeho eshopu, využíváme slevový kupon a opravdu je vidět rozdíl v počtu dokončených nákupů.
Jana Holubová - Spoluzakladatelka Zadarmoo.cz
16,111,282 notifications displayed
The proper social proof and utility widgets
Notification Preview
Choose any type of notification and preview it live.
Choose your package
Choose and get your plan based on your needs